Sheep / Goats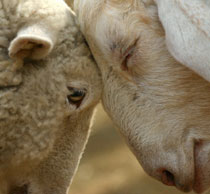 Zoetis' convenient vaccine combinations for sheep, maximise flock protection and provide important vitamin and trace element supplementation to help improve farm production and profitability.
Glanvac™ 6 S B12 provides producers with a convenient combination, protecting sheep against cheesy gland, important clostridial diseases as well as selenium and cobalt deficiency.
Eryvac for ewes
Protect your lambs from Erysipelas arthritis by vaccinating your ewes with Eryvac around joining and again pre lambing. The joining treatment is not needed if ewes are already on the Eryvac program.