Pigs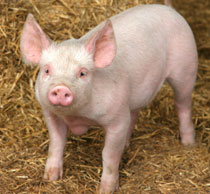 Zoetis offers pork producers an industry-leading range of solutions to help pigs stay healthy, resulting in a more efficient and profitable operation. From vaccines to antibiotics, Zoetis has available the broadest and deepest line of products to meet the needs of producers and veterinarians. That means healthier pigs and a healthier bottom line.
In addition to working with pork producers and veterinarians to promote swine health, Zoetis can help you raise pigs more consistently. We know that treating pigs at the first sign of disease is the key to a successful business. We offer an industry-leading number of health and management programs and services that promote education and improved health of the animals in your operation.
Zoetis also can deliver added value through an experienced and highly knowledgeable field sales force – all of whom bring value through the products and services you need to produce maximum profits.
Our vaccines, antibiotics, programs and people deliver healthy solutions. Predictable production translates to a more consistent and profitable bottom line