Leptospirosis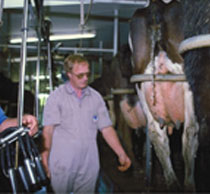 Leptospirosis is an important public health and animal health disease.
Leptospirosis is a bacterial infection that colonises in the kidney and genital tract of the host. The disease can be spread to humans and other animals when leptospires are shed in the urine and from the genital tract into the surrounding environment. L.hardjobovis and L.pomona are usually the most common types found to infect cattle in Australia and New Zealand. There are however several other types of leptospires that infect other animals.
Clinical signs of leptospirosis in cattle can include abortion, weak or stillborn calves, sudden milk drop, mastitis, acute septicaemia in calves, redwater, anaemia and jaundice which all affect the productivity and profitability of the herd.
Symptoms in humans range from profound fatigue and headaches to muscular aches and vomiting. Usually infected people return to work within 3 to 4 weeks, however continuing relapses can occur. The disease is a significant occupational health and safety issue for cattle producers and the most important method of prevention is vaccination of the herd.