Horses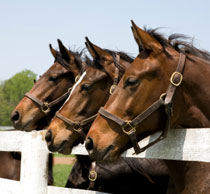 Whether horses are for performance or pleasure, Zoetis is committed to their well-being. We understand the serious consequences of disease, and that's why we've developed a comprehensive range of safe and effective products to help professionals and individual horse owners keep their animals healthy.
Zoetis offers an array of health management programs designed to keep horse owners and professionals educated on the many facets of maximizing equine health and wellness. We continue to work to foster long-term relationships with veterinarians, professional managers and individual horse owners to provide the latest in equine health education.
Zoetis can draw from our stable of proven products for comprehensive disease management in horses. Our preventative products go the extra mile. And whether horses are your passion, your business or both, Zoetis boasts the experience, knowledge and product range to be the source of your equine health needs. Anchored by such established and well-respected brands as Equivac™, Equity™ and Equiban™ Zoetis promotes total horse health with a broad range of products. All are supported by a team of experienced and knowledgeable professionals in the animal health industry.