Cats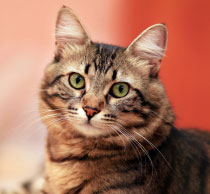 Today more people are cat lovers than ever before, and it's easy to understand why. Cats provide us with loyalty, companionship and affection. In return, it's our responsibility to make sure our feline friends stay active and happy. But because they are very independent creatures, cats' health needs sometimes go unnoticed. To enjoy a long and healthy life, a cat needs the protection of its owner, the care of a veterinarian, and the support of a yearly examination and vaccinations provided by your veterinarian.
Antibiotics, parasite control and disease prevention are all part of the Zoetis portfolio. Few companies puts more resources into research and new product development. This is what allows Zoetis to make so many exciting advances in companion animal health. And because we know the important role veterinarians play in maintaining a cat's good health, we work with veterinarians to help them provide the latest in feline health care and education.
A healthy pet is a happy pet, and a happy pet can help us enjoy a much fuller and more rewarding life. At Zoetis, we understand that connection. That's why we're developing medications that meet the needs of pets and their owners. For more than 60 years, we have researched and developed pharmaceutical products veterinarians and pet owners trust.