Black disease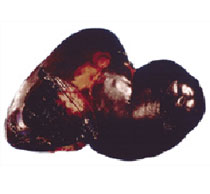 Black disease is an acute, highly fatal disease of sheep, goats and cattle and is usually associated with a liver fluke infestation.
Black disease (also called Infectious Necrotic Hepatitis) is caused by the bacterium Clostridium novyi. The organism produces toxins in the liver usually following damage to the liver by migrating liver fluke, causing death.
Spores can survive in soil and pastures for many years. Spores are ingested from pasture by the animal and pass into the liver where they may remain for some time with no apparent effect.
However, should the liver tissue near the spores become damaged, usually by liver fluke, the spores will be activated, they will multiply and begin producing a toxin which causes the disease.
Although sheep are the animals mainly affected, losses can occur in cattle and goats. The onset of the disease may be rapid, with stock simply found dead in the paddock.